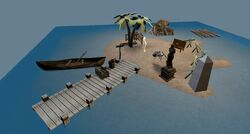 This is the new Homepage of the Add-A-Thing OutdoorItems project.
This project was quite successfull. The intention was to see how the community can add things into a shared file. The result are some very nice assets that can be used in own tutorials and demos.
Check the orignal thread at Blenderartists
status

closed
these members of blenderartists contributed to this project:
Monster

Projectmanager
Contributor of GreenFloor, RubberBall, Fence.old, PoleFence.mid, PoleFence.end, Obelisk

Josip Kladaric

Contributor of Pokeball, Palm, Island, Water, Draft

MZIskandar

Contributor of BenchWood, Pocong, Grave, Spider

CrazedQuetzal

Contributor of Wharf

Haidme

Contributor of Boat, Crate, Bucket, Statue

newblend

Contributor of Rock_large, Rock_small
You can find the content of the project at the OutdoorItems Contentpage.
If you want to use the assets in your own file, download the latest version of outdoorItems.blend. Place it somwhere in your filestructure. Then link the scene __outdoorItems to your file. Now you can add the assets via
Add/Group instance/<group name>
Contribution
Edit
Blender 2.49b file
Must fit as attachment to blenderartists.org (<1MB))
NON-GLSL
Scale: 1BU = 1 Meter
Objects, Meshs, Materials and Groups require meaningfull names
Objects are added as linkable groups
Organisation
Edit
<contributorName>

one scene per contributor
contains the group object's of the contributor
_Outdoor

the demo scene to present the assets as group instance
can be used to link all groups in one step
Ad blocker interference detected!
Wikia is a free-to-use site that makes money from advertising. We have a modified experience for viewers using ad blockers

Wikia is not accessible if you've made further modifications. Remove the custom ad blocker rule(s) and the page will load as expected.